Diamond Grinders & Routers
Yorkshire Diamond Products Limited can supply Diamond Routers, Adaptors and Accessories, below are a few of the Diamond Accessories we supply: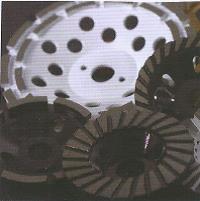 Cup Wheels
Cup Wheels are mainly used for polishing, levelling and grinding stones such as Marble, Granite, Sandstone and Limestone. Cup Wheels are normally used on Angle grinders.
Finger Mills
Finger Mills are designed to cut Marble, Engineered Stone and Granite, they can be used on CNC machines or Radial Arm machines for hole grinding.